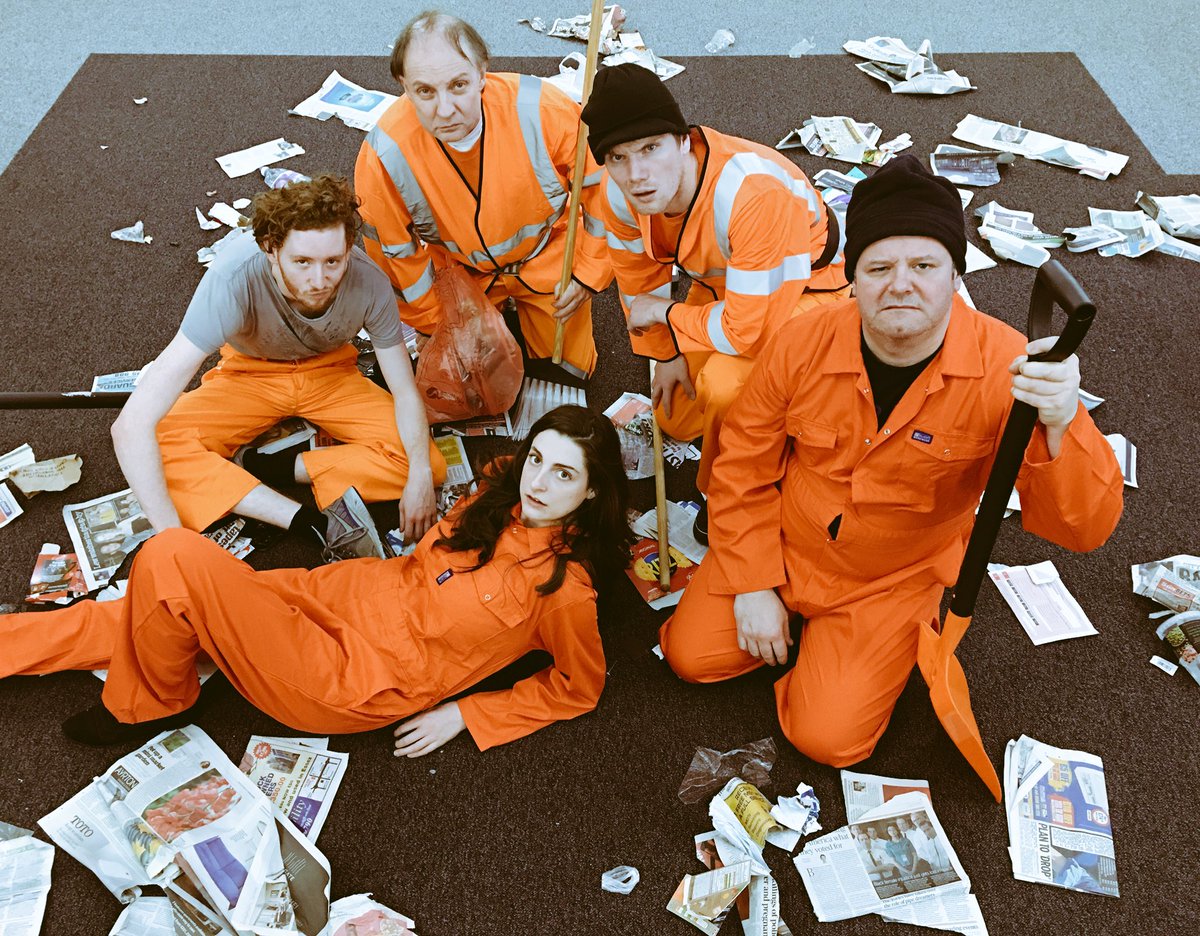 Isn't pub theatre great? It's been a couple of years and I should go more often. The intimacy of performance, the power of actors giving their all in such confined spaces and the feeling your presence really matters. This time it was to the Hen and Chickens in Islington for the Theatre of Heaven and Hell's latest production, Dario Fo's One Was Nude and One Wore Tails.
The character tantalisingly called 'Naked Man' in the programme is in fact to be found  performing throughout and protecting his modesty from inside a large yellow council wheelie bin. An ambassador in temporarily (he hopes) reduced circumstances, a road sweeper finds him in his bin. He's hiding there having been forced to make a hurried exit, naked save his gold watch and top hat, from his lover's home on the return of her husband. Unable to return to his own wife without the tails he was wearing when he left, he enters into a both philosophical and practical discussion with the road sweeper, whose bin it is, about how he can both acquire some tails and get home.
The roadsweeper has in a previous discussion arrived at the view that because he is nothing and nothingness represents the beginning of existence, he is in fact God. In the end, after meeting a flower seller on a bike, it is the road sweeper who ends up wearing tails. He encounters a prostitute who now finds him strangley attractive. Because he looks like an ambassador he is treated like one. But by becoming something he has also ceased to be nothing.
The play explores actual and perceived status. The naked man demands others defer to his status as an ambassador, even as he sits naked in a rubbish bin. We already know he is morally compromised and, without his tails, he is doomed either to live in the bin or be exposed.
Darren Ruston, in his bin, gives a tremendously unconfined performance, barely keeping his temper in check as he realises the weakness of his new position. Nicholas Bright, as the road sweeper whose own status benefits from this, grows in confidence as the play goes on. At the same time he retains a sort of twinkly innocence which I find reminiscent of a young Michael Crawford (but then Charlie Stemp in Half a Sixpence had the same effect on me, so perhaps it's just my age!). Brian Eastty plays a fellow road sweeper and also a patrolman with easy authority in both roles. Jake Francis is delightfully confused and phased by being asked to sell his tail coat to a naked man in a bin. And Elena Clements falls convincingly for the road sweeper turned ambassador.
One was Nude & One Wore Tails will be running at the Hen and Chickens Theatre until the 18th March. You can buy tickets here.